Christopher with Ashford and Simpson

Scars on 45

Sold Out performing in front of 4,700 fans at Playlist Live

Portrayed Young Indiana Jones in Papa Johns Commercial

General Wolff Comander of the Naval Militia and Major General Steve Wickstrom 42nd infantry division U.S Army

NYS Senator Greg Ball

Christopher with Michel Camilo

Michael Strahan and i at ABC Studios!

Christopher plays Madison Square Garden

Chris with Jeff Goldblum on the set of Law and Order

Singer, Organist, and Pianist for Arch Diocese of NY

Commander Powell Northern Commander NY Naval Militia

K104.7 Morning Crew

Kelly Ripa and i at ABC Studios

Christopher returns to Madison Square Garden

Sold Out Concert in NYC

Me and Jim Brickman

Commander McCormick Northern Command NY Naval Militia

Christopher plays Madison Square Garden

On the set of "The Inbetweens"
"Whatever happens with my life is all in God's hands…Im just enjoying the ride He is taking me on!"   Christopher McGinnis
Christopher McGinnis first came to my attention back in 2011 when I stumbled across a YouTube video of him when he was just 8 years old playing a Red Garland rendition of "Bye Bye Blackbird". At just 8 years old, Christopher was an accomplished pianist playing mostly Jazz, Latin and Classical piano. (A sophisticated pianist to say the least!)
In his formidable years, his father taught Christopher and started him on the piano at 5 years old. He was classically trained at 7 yrs old by the Master pianist David Tong from the Julliard School in New York City. As time passed, Christopher grew musically at a rapid pace, studying with the great Jazz pianist Eldar Djangirov and Zacai Curtis.
He has played Madison Square Garden 3 times, entertained for Senators, and performed for the United States Army with a song he wrote for Veterans called "The War Song An American Hero." He was the youngest pianist to play once a week at the Jazz Standard in NYC with the Youth Orchestra at 11 yrs old and has played at many NYC comedy clubs opening up for headliner comedians.
Christopher is truly a gifted musician. He is one of a kind.
Today at 16 years old, Christopher McGinnis is a busy young teen to say the least. His newest accomplishment is his alliance with the Catholic Archdiocese of NY. He is one of the youngest church organist and singers hired at age 15 and currently works for three different churches.
Since last year, he has played well over 100 masses for Sunday services and numerous funerals. He has been thoroughly enjoying his new job! So much so that he wrote a song called: "I Look To My God".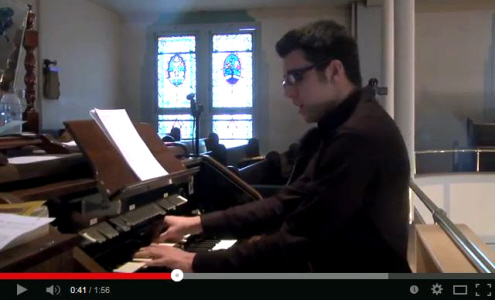 Christopher Performs "I Can Only Imagine" at Church
He is the sole performer at a large venue (3,500) people for the 19th annual KIDS FAIR sponsored by WHUD 100.7fm. He will be performing at the annual "Make Music NY Festival" in NYC and Christopher will be the headliner for "POP CITY TOURS 2014" shows in NYC.
Use the Player below to Christopher McGinnis Interview with Bruce Owens
Christopher has been interviewed by Bruce Owens a number of times and recently was honored to be the last scheduled guest on his Radio Talk Show for Good Morning Hudson Valley Radio.  Bruce shared this historic interview with Rivenmaster's place specifically for this article.
Christopher appears on CBS on "Live from the couch w/John Elliott"

You may also want to see his performances of "Just Another Teenage Night"  a pop original of Christopher's performed in the lower east side of New York City, and "Chick Corea during a sold out Latin Jazz performance.
I'm not sure what's around the corner for Christopher, but I can promise you it's going to be huge!  With the countless songs he has written, this prodigy pianist, singer, and now church organist will undoubtedly continue to experience great success.  Yes, the NEW PIANO MAN has truly arrived!
After all Christopher is gaining momentum in the City That Never Sleeps, the one where…        IF YOU CAN MAKE IT THERE……. well you know the rest!
To learn more about Christopher McGinnis visit:
You can also find all of Christopher's singles on iTunes
Christopher McGinnis mobbed by fans in Times Square!
Sold Out Concert! Performed at Playlist Live for 4,700 fans in March 2013
Sold Out Concert! Performed at Playlist Live for 4,700 fans in March 2013
 I am the Head Organist for a Catholic Church
I am the Head Organist for a Catholic Church
Sold Out Solo Show in NYC, December 2012!
Sold Out Solo Show in NYC, December 2012!
.

WATCH CHRISTOPHER'S SPECIAL MESSAGE TO HIS FANS!
.
Fourteen year old musical prodigy Christopher McGinnis first appeared here back inFebruary 2011.
Since that time, he has continued to advance his career writing additional hit songs adding to his ever growing collection of originals.
Christopher is an amazing piano prodigy, prolific songwriter, and soulful singer with movie star looks.  This young talented teen has everything in the making for HUGE success. His command on the piano as he goes from playing Latin, Blues, Jazz, Classical to Pop is just an amazing sight to witness.
NEW SINGLE ANNOUNCED!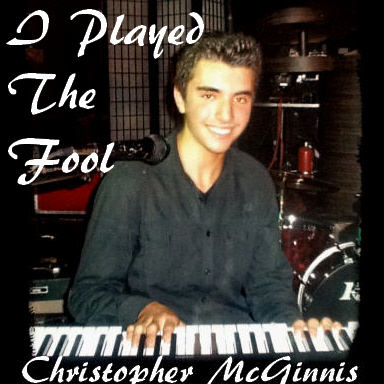 Christopher released his new single "I Played The Fool", which demonstrates his ability to write top 40 hits with an identifiable hook.  I personally purchased it only yesterday and have to tell you that "This song rocks"!!!
You can get your own downloaded copy today by visiting i-TUNES orAmazon.com.
Christopher began his summer performing live with sixty four other pianists at the South Street Seaport "Pier Fifteen" for classical composerWendy Mae Chambers in June for the "Make Music NY Festival".  He will be appearing at the iconic"Bitter End" in NYC on July 20th on piano and vocals performing all his originals.  In addition, Christopher will host the "Echo Bay Youth Blues Festival".

CHRISTOPHER BEING INTERVIEWED BY TELEVISION CREW
After the Blues Festival Christopher will travel to Virginia to open up for the successful Indie Band "Scars on 45".
He will then return to NYC where he will perform at the South Street Seaport in mid August.
CHRISTOPHER MCGINNIS POSES WITH CAMERAMAN ON PIER
INTERVIEW WITH BRUCE OWNS AT WLNA RADIO HUDSON VALLEY
On July 17th Christopher once again was featured and interviewed by Bruce Owens on Good Morning Hudson Valley Radio. Bruce first interviewed and featured Christopher over a year and half ago and his interview was also featured here on this site!  I want to thank Bruce and his amazing station WLNA for once again sharing his broadcast with this site.  Use the player below to enjoy the entire broadcast and interview with Christopher McGinnis!
It is incredible to me that Christopher McGinnis is not yet signed to a Major record Label. We are witnessing the preeminent piano, singer, and songwriter of our time. What Billy Joel and Elton John were to the 70s and 80s, Christopher McGinnis is to his generation and the future.
"Obviously Christopher has not been seen by the right person yet.  I trust that this article serves him well in opening new doors of possibilities for his career. Because there is no doubt in my mind that Christopher McGinnis will be a household name in the not too distant future."
WATCH CHRISTOPHER PERFORM LIVE AT THE FESTIVAL
To learn more about Christopher McGinnis visit:
Below is many press/media write-ups and interviews of me…ENJOY!!!!!!!
Christopher McGinnis on The Mystery Artist Show
Submitted by themysteryartistshow on February 19, 2012|
Share This Article :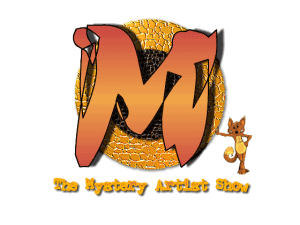 Since starting the Mystery Artist Show on TheSkyKid.com radio, this only makes the third interview that I've done so far.  That being said, I must say that, for someone who is only 14-years-old, Christopher McGinnis is definitely someone you should keep your eyes on. Since he is so diverse, involved in so many fields, I wouldn't doubt it one bit if he was to become famous in at least one of those fields.
It was an extreme pleasure doing the interview with Christopher, but I must say that it wouldn't have been possible without his mother Michele.  So I'd also like to thank her for allowing this to happen.
Note: This interview is transcription of the original interview aired on TheSkyKid.com radio on  19.02.2012. The clip included below features the whole interview and snippets of the songs that were played during the live broadcast.  In this transcript, "MA" will represent the questions posed by the Mystery Artist's Show and "CM" will be Christopher's answerMA: How did you manage to do your first concert on Celebrity Cruise Line?
CM: Well it's actually kind of interesting how I did it.  I was only seven-years-old at the time.  I'm just relaxing on the deck and you know the bands' playing up there and they're playing some great music — island music.  But they're playing everything pretty much.  Their set's done and they're just walking around.  So I go up on the little piano they have and start jammin' on the Blues.
They come up to me and like "Wow kid! You're pretty good!" I was like "Wow! Thanks a lot".  So they're like "You wanna jam a little bit?" And I'm like "Sure, let's do an F Blues".  So we did the Blues and they said "I really like your playing and anytime you're out on the deck, we'll pull you up and we'll play some songs. I ended up doing some Billy Joel, some Bach, a whole bunch of stuff. I had a really great time and it was a really great experience when I was only seven.
MA: How did you manage to audition for the Papa John's commercial and how did you feel when you found out you got the part?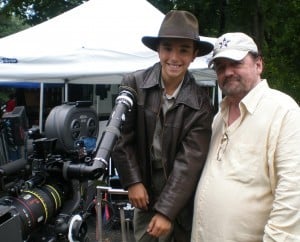 CM: Well, I had just gotten an agent in New York City and it was one of the first commercials I went out for.  They called me down saying they needed someone with brown hair, very athletic and someone looking a lot like a young Harrison Ford. So I went out for it.  The first auditions they actually brought you to a gym. I had to swing from some ropes and jump over some crazy towers. It was actually a fun thing.  That was my first audition and it was totally new to me. Then we get the call-back.  So I went for the call-back, which was pretty much the second audition. That was more of a bite and smile. They had us eat some food and smile at the camera and that was more of a basic audition for the call-back. It was pretty much me and this other kid and then I got the call that I got it. It was the most amazing feeling in the world.
There's nothing else like that when you get your pretty much first national network commercial and it was just the best feeling. It's funny because we were actually on our way to vacation at Lake George. It was the week before when we actually got the call and that was when  we were going away.  So we pushed our vacation a little bit back so we could do the shoot. The day of the shoot was amazing because there were food carts. It was like first class service pretty much and it was so awesome. It was an awesome experience because I got to swing from a rope, jump over a dog house and I ended up eating about 16 slices of pizza!
MA: What was it like working with Jeff Goldblum and Julianne Nicholson on Law and Order?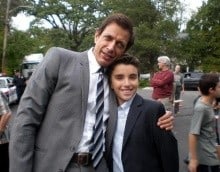 CM: Working with both of them was really a great experience. They're both so professional and both so nice. Jeff and I have a lot in common actually. As you probably know, he's an accomplished jazz piano player. We started talking and I play out in the city and he plays out in the city. He has a band out in Los Angeles and his own place that he plays. We just had a great conversation about it and it really made the day that we could actually have something in common to talk about. It was just a great experience for me to work with them.
MA: What kind of advice would you give other young artists just starting out?
CM: Just be true to yourself. Don't let anyone tell you that you can't do it. What you want to do has to come from within. If someone else doesn't like it, or really wants you and you don't want to do it, then it's not going to work. Just remember: "Practice makes perfect". If you really want it, then you're going to be able to get it, as long as you keep trying and push hard enough and never give up.
MA: When first starting out, an entertainer such as yourself looks to the media to get their name out to the general public. But if the entertainer then become extremely famous, then they wish the media would leave them alone. How do you feel about this? I mean it's a Catch-22 situation.
CM: Well, of course you want to get your name out there but, when you do, it depends on if you want it to stay out there. How do I feel about this? Well I feel like when you're out in the media, you're probably making great money and everyone's loving you. Maybe some people are hating you, but that's not the point. I like my situation because I started professionally in 5th grade and I've done some extraordinary things in my opinion.
For me, I'm 14 right now, but I'm still able to have the awesome life that I feel I have.  I can play sports and still hang out with my friends, but I can also go on the side scene, go into New York and play in a night club at night. I think I have the best of both worlds personally. Some people might rather be in the public eye.  The only thing is, when you're in it, it seems like it's even hard to go out. The paparazzi are all over you all the time. Then some people in their basic life would say "Well I love my life. I want to have my privacy". So it's really your own opinion. I feel that doing great things, but also being able to live that normal life you have, sometimes is the best.
Christopher McGinnis Live in Macy's Herald Square NYCMA: Between the sports, acting and singing, which do you hope to make your profession?
CM: To be honest with you, I can't really tell you what I want to make my profession right now. I'm 14 and in the 9th grade. I have an idea. I don't want to say I'm a well rounded kid, but I kinda am. I love my sports, I love my singing, I love my acting and, most importantly, I love my piano playing. I'm riding the bus right now and whenever it comes to the right stop, I'll get off there. I just look to the Lord to tell me what to do.  Right now,  I can't tell you what I really want. I know I want to go to college and I'm even thinking of a profession in medicine; but right now there's no set thing that I want to do. I'm just going to see where life takes me and wherever it takes me I'm happy.
MA: With you being an "A" student and with your sports, acting and singing, how do you manage to find time to spend with friends?
CM: That's an interesting question because I feel like I'm always having a good time in life. In school I'm socializing, I go to a public school and that's always with friends. When I'm playing sports I'm with friends, when acting I always make new friends. There's always time when I'm socializing. On the weekends, I'm always hanging out with someone after I get my business stuff done. To be honest, time just finds me.
Live performance for prominent politicians, judges, us army officials at 9-11 tribute.
MA: I know generally when someone writes a song, it's based on some kind of personal experience that they've had. What inspired you to write The War Song: An American Hero?
CM: Although I was only three-years-old, I remember the day my dad picked me up from pre-school, brought me home and said something bad happened. Of course, I had no idea what was going on, but I remember all the media. Over the years I kind of took in all the details about it. About two years ago in the dead of summer, I'm sitting down at my piano and I was just thinking of what the impact caused on the American family and the American Spirit. I thought how there's always going to be war going on in some way or form. I thought I could give back by writing this song. I've played it at many great venues. I've played it for Linda Paglesee (the town supervisor), I've played it for Senator Greg Ball and I've played it with the 42nd Infantry Army Band. I just thought that it would have a really great impact on the people, and so far it has.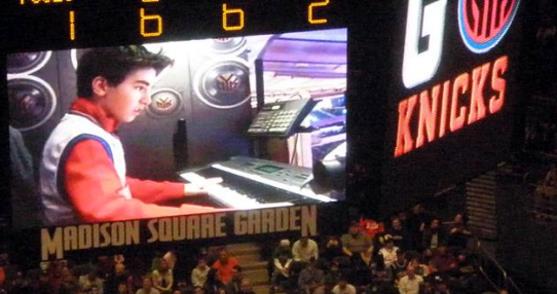 Christopher McGinnis at Madison Square Garden
MA: Would you like to one day be able to perform at Carnagie Hall or Radio City Music Hall?
CM: Of course I would. That would be absolutely amazing. I hope I will in the near future. I've performed at some great venues already. Madison Square Garden: I performed three times at the Knicks half time show, and you don't get any crazier than that in my opinion. When you have 20,000 people surrounding you at half court, and you do your thing. It's the best thing I've ever experienced. I've also performed at the Momody Comedy show every year. I was the youngest pianist to ever perform at the Jazz Standard, at which I performed once a week for two years, and I play around at all the night clubs. I feel that I've done so many great accomplishments in my life so far and I can't wait to see what comes in the near future.
MA: If you could perform with anyone (dead or alive), who would you want to perform with?
CM: I know this is going to be absolutely crazy for you to hear because I'm a Latin/Jazz/Pop pianist pretty much.  I would like to perform with a Country music star because they're cool and down to earth people to me. When I'm on my free time on the piano, I rock out that Country music. I love Country, I love the way it sounds, I love listening to it.  I think that would be an awesome experience because I've never performed with anyone Country before. That's who I'd like to perform with. It doesn't really matter who it would be. I love Luke Bryans' Country Girl. Carrie Underwood I love.  The list goes on… but any country star.
MA: Is there anything else you'd like to add before we go?
CM: I have five tunes on iTunes and Amazon.com that includes The War Song: An American Hero.  They are all original tunes that I wrote and sing myself. I hope you go and download them and enjoy them. All my videos, music and stuff are on my website. Thanks a lot for having me on the show and I hope we talk soon.  Have a good day.
Please be sure to visit Christopher's website.  If you really enjoy his music, then see about downloading it on iTunes or Amazon.com.
More information about Christopher McGinnis is available at : Rivenmaster.com and Starts2Come.com
PEEKSKILL-CORTLANDT PATCH
Whiz Kid: Christopher McGinnis
At 14 years young, Hen Hud High School student, Christopher McGinnis is a singer/songwriter and professional pianist who has also acted in films and on television.
Name: Christopher McGinnis
Age: 14-years-old
School: Hendrick Hudson High School
Accomplishment: At the age of 14, Christopher is already an all-around entertainer. Not only does this young man amaze crowds with his voice and piano playing, but he has also acted in films and on television, done voiceovers, and performed live for over 20,000 people at a half-time show in Madison Square Garden, a venue he has now played 3 times. Most recently Chris performed his original song, "The War Song An American Hero" at the Town of Cortlandt's 9/11 Remembrance Ceremony.
Key to Awesomeness: Cortlandt Manor resident, Christopher McGuinnis began his formal piano training at five-years-old, and has been singing and playing piano professionally since he was 10-years-old. Through his private training at the Julliard School and formal training which comes by way of some of the best pianists New York City has to offer, Chris has learned to play pretty much every genra of music out there, including classical, Latin, jazz, pop, rock and be-bop.
"I love to play jazz and Latin. Most kids my age don't like all the old standards and can't really free style in Jazz," McGinnis said.
Chris' musical talents have bestowed a number of honors upon him, including the opportunity to have played with the late Motown musician, Nick Ashford at his NYC club, The Sugar Bar. McGinnis was also the youngest pianist to play for the Jazz Standard Youth Orchestra at the Jazz Standard in NYC and performed one of his original songs for the US Army's 42nd Infantry Division as well.
In addition to his musical career, McGinnis has already had a successful acting career. Chris made his acting debut on an episode of Law & Order Criminal Intent, and has since been featured in a number of television shows and commercials, including an advertisement for Papa John's where he portrayed a young Indiana Jones.
When his agent calls, Chris is always ready to travel down to the city for an audition. At home, he spends about an hour a day practicing the piano, and writes songs when he feels inspired.
Besides his interest in the entertainment industry, McGinnis is also an athlete who plays football, basketball and runs track.
"I guess I have a lot of discipline and I know that I need to manage my time wisely," said McGinnis. "I sometimes have to do school work, go to a sports practice, go to an audition and practice piano all in a few hours."
Looking back on his musical career thus far McGinnis says that his greatest accomplishment to date has been playing Madison Square Garden three times.  
Though he credits many musicians, such as Michel Camilo and Billy Joel, as having inspired him, Chris also says that his inspiration comes from his heart and his family.
"Musically, my Dad has inspired me to keep on playing," McGinnis said.  "He is a great motivator for me. Without him I would have not known about all the great jazz influences. He has been my personal mentor from the beginning." 
In his spare time Chris enjoys surfing, riding his jet ski, and reading about yachts on the internet. He also has an interest in medicine, and says that one day he would like to become an anesthesiologist.
"My goals are always changing," McGinnis said.  "The entertainment industry is and has been a part of my life for a long time, but whatever happens down the road I still am aiming to go to a good college and get a degree in the medical field, so my grades are important to me."
You can catch McGinnis' next live performance at the Hen Hud Varsity football game on Oct. 6, ordownload three of his original songs from iTunes or Amazon. For more information, videos, and live interviews visit:  http://www.christophermcginnis.com
Last February I introduced to this site, a young musical prodigy named Christopher McGinnis. Christopher has been making his mark not only as a outstanding pianist, organist, performer and actor, but as an entertainer and song writer who has written three original Pop tunes, "Dreams Are Made Of", Time Waits For No One", and "The War Song an American Hero" which are all available for purchase on I-Tunesand Amazon.
Christopher has been very busy since that first article was published, performing all around the New York area. Christopher, who turns fourteen on the 15th of this month, has already accomplished what many professional musicians who have been in the business for years have not, by  performing Three Times at Madison Square Garden.
While a smaller version of this article appeared in the side bar of this blog previously for a short time, I felt it necessary to give Christopher the recognition he deserved by publishing the extended version here today.
With this Sunday being the 10th Anniversary of 9/11 in the United States. I felt that Chris's song entitled "The War Song an American Hero" was exactly what was needed to commemorate this day.
Recently Christopher performed his original song "THE WAR SONG AN AMERICAN HERO"at the WWII Veterans Concert 2011.
Chris sang and performed his song for some of the US Military's top brass during this event!
No only does his song fit this weeks memorial theme but it honors every fallen solder who has ever fought for his country.
Thanks you Christopher for this song and for your dedication and desire to share your gift with all of us today!
Click below for interview LIVE on WHUD 100.7 fm
Christopher  McGinnis
12 year old piano prodigy and pop singing sensation
LIVE with

Bruce Owens
on 

WBNR

, and 

WLNA Radio Stations

 part 1
Christopher with Bruce Owens on WBNR, and WLNA radio stations part 2
Journal News 11/29/09
CORTLANDT — Christopher McGinnis is a personable 12-year-old Cortlandt boy who also happens to be an incredibly talented
piano player
He is a featured pianist — and the youngest member — of the Jazz Standard Youth Orchestra. He plays with the group at the Jazz Standard in Manhattan once a month with his next performance scheduled for Dec.- at 2 p.m. On Nov. 2, he was the halftime entertainment at a New York Knicks-Charlotte Hornets game, playing in front of thousands at Madison Square Garden.
He has also acted on television shows and in commercials.
But you wouldn't know from talking with the Blue Mountain Middle School student that he's that big of a deal. For all his talent and personality, Christopher seems to take his success in stride.
"I just love playing the piano, especially jazz," the seventh-grader said. "When I play it, I feel I can play something new every time."
Christopher started playing piano at age 5 and, at 7, was studying at the Juilliard School. By age 9, he was under the tutelage of acclaimed jazz musician Zaccai Curtis.
"He taught me Latin piano and Latin jazz," Christopher said. "It really helped a lot."
As part of his burgeoning acting career, Christopher portrayed Young Indiana Jones with Harrison Ford in a national TV campaign for Papa John's Pizza in 2008, and earlier this year he played the son of a diplomat in "Law & Order" with Jeff Goldblum. "I like acting a lot," he said. "I just basically really want to have fun with it and if anything (successful) happens, it happens. If if it doesn't, it doesn't."
Michele Pulice thinks her son inherited his talent from both sides of the family, although she admits the majority likely came from the family of her husband, Chris McGinnis. 
Her late father-in-law, Edward McGinnis of Peekskill, was the leader of Eddy and the Touch of Class, a Big Band that performed throughout Westchester County and New York City for years. Eddy McGinnis, who died in'97 about nine months before Christopher was born, also worked as an actor and a model.
"My husband comes from a very musical family," Pulice said. "He has been playing drums since the age of 5 and his sister is a jazz singer in Los Angeles. I was a drum major at Peekskill High School. I have seven brothers and sisters and five of them are good singers. My mom, Connie Pulice, is 82 and still a wonderful singer."
Although Christopher enjoys playing jazz, he also likes pop music and counts Billy Joel as among his pop influences. Christopher has also written pop songs, one of which he'll perform Thursday at 6:30 p.m. at the Broadway Comedy Club's Holiday Hilarity and Variety Show.
Brooke Bolen, a guidance counselor at Blue Mountain Middle School, said Christopher applies the same effort in school as he does to his music. "He's a very energetic, enthusiastic kid," she said. "He's a good student and he loves school."
Whether he's playing football, surfing or playing piano in front of 20,000 people at Madison Square Garden, Christopher never seems nervous and always seems to excel. Even at the Knicks game, where he was set up with what he called "a piano you could buy at Toys 'R' Us for $60," Christopher made the best of the situation. In a video on his Web site that shows him just seconds before going on, he is giving his father the "thumbs up" and is eager to perform .
"It was just so much fun in front of all those people," he said. "Plus I got a lot of basketball players' signatures."
Christopher may get a chance to collect more autographs as the Knicks have invited him for a return performance before a Dec. 6 game against the New Jersey Nets on Kids Day at the Garden.
Christopher
LIVE on
NEWS 12 TV


12 year old piano prodigy and pop singing sensation Christopher McGinnis with the classy Matt Sampson in front of 3.2 million faithful viewers.
Christopher interviewed on Poptub.com (1 min in)
Noted Westchester County New's Paper
The North County News
Featured a full page interview with artist Christopher McGinnis in the LifeStyles section on 10/11/07
To access this great interview that was written by Kathleen Fitzpatrick please go to www.northcountynews.com and go to the archives or just read the story directly below.
Search the archives of the North County News


(January 2006 onwards)
Search
Pub Date
A family affair: three generations of making music       Story and photo by Kathleen Fitzpatrick
Vol. 41, Number 41 10/10/07-10/16/07 Updated: 10/11/07
Ten year old pianist
Christopher McGinnis continues tradition
Though he is ten years old, Christopher McGinnis, II has decades of experience behind him. The McGinnis family has encouraged, showcased and performed great music in North County for three generations.
And now it's Chris's turn.
Chris was one of the youngest members to perform at the Amateur night at Peekskill's Performing Arts Center last month. But this fourth grader, who has been attending Julliard for the past nine months and studying under the likes of David Tong and with noted jazz pianist Eri Yamamoto, doesn't get nervous. He certainly isn't jittery when he is backed up on drums by his mentor: his dad, Christopher McGinnis.
Although he is classically trained and can play Bach with the best of them, it's jazz that gets under his skin.
"I really like jazz," he says while seated on his couch at home in Cortlandt. "It has a really good funk-feeling to it when I play it."
Indeed it does. Chris and his dad transport you into a jazz club in the city with their beats when they improvise together. Chris has music in his blood: both his father and his grandfather were performers in the North County music scene. Chris McGinnis Senior has worked in the music business since he was 19. He and his wife, Michele, have worked hard to expose their son to the best musicians out there. Chris McGinnis, Sr. was the owner of The Funky Bean—now the Side Street Grill—in Buchanan, a jazz club and restaurant that he closed a year and half ago in order to devote more time to his son's music career. He uses that time to travel into the city—where he was once operated a jazz club and owns an apartment in the East Village—with his son and wife in order to introduce him to the best in the business.
"We had to make a choice," he explained. "Do we get ourselves into the Manhattan music scene with our son or do we stay in Buchanan?"
Not only is young Chris taking lessons in Julliard, but he's playing for musicians, who perform in the best night clubs in Manhattan, said his dad.
"We take music very, very seriously," he said. "The fact that [these artists] see him as a great young player is what I'm happy about. It's not that he's a great little kid; he's a great player. He's not just a novelty."
Christopher has played in the Hendrick Hudson School talent show the past three years and also played the piano for his BV elementary school concert last year. The district chose to allow him to accompany the chorus instead of hiring a pianist. When he's not practicing, Chris loves playing baseball, soccer, swimming, wave running, football, and basketball.
Christopher also sings; he and his dad sang Elton John's "Can you feel the love tonight" at Amateur Night. While at home the night before, he practiced with his dad in the basement. Behind the C3 Yamaha Grand Piano he's practicing on hangs framed movie posters for which his mother served as casting agent.
Chris Junior performed a song that he wrote himself, entitled, "Time Waits for No One." His lyrics belie the fact that he's only nine years old: "Look into my eyes and tell me I'm the one. Don't you know that time waits for no one?"
His grandfather would have been proud; Eddie McGinnis and his band, A Touch of Class, played at the Tarrytown Hilton for 17 years.
While his grandfather was part of the big band era, Chris will someday be a cross between Sting and Michel Camilo, an internationally acclaimed jazz pianist and composer, according to his dad.
"He's going to be the ultimate pianist, a monster pianist," he said. "We want him to have the chops…maybe he could even have a television show around his music."
Both of Chris' parents have worked hard to give him not only the exposure to talent and training that a young pianist requires but the values and strength of character needed to survive the business, they said.
"We're a very close family," said Michele McGinnis. "We're a very religious family. If he does go into the business, he'll be grounded."
But until he makes it big—a prospect that young Chris can't help but be excited about—he enjoys every minute of playing in his basement, every night, with his dad.
Check out Christopher's website at http://christophermcginnis.com.
Other articles from the same edition: